Kink + Unresolved trauma = volcano waiting to erupt.
Unresolved trauma causes people to behave in unpredictable and in appropriate ways.
Healing from trauma is a skill you can learn which will allow you to spot it and treat it - for yourself and your clients.
Learn how to avoid the wrath of a client with hidden trauma and gain the skills to facilitate them on their path to healing so that you can get back to all the kinky fun in and out of the dungeon.
Who is this for:
Any Healing practitioner that would like to add BDSM Wellness to your practice
Those who would you like to understand how trauma can show up in human sexual development and BDSM and Kink scenes
Pro-Dom or Dom or Top that would like to know how to handle subbies and bottoms triggers better? Both in the dungeon and out of it.
Pro-Dom or Dom that has past trauma? Come discover how to heal and manage it so it doesn't affect your play.
This one of kind course explores and covers two topics BDSM Wellness And How Trauma Shows Up And Can Interferes In BDSM/Kink And Human Sexuality
BDSM Wellness: After years of facilitating clients to heal and supporting them becoming the best version of themselves as sexual wellness specialists. One day one of her sexual wellness clients who came to see her for help to heal their sexual trauma, porn addiction and anxiety asked if she would bring him into her dungeon. So Empress Gaia said sure and started to use BDSM and the dungeon to reprogramme unhealthy behaviors , thoughts to healthy behaviors and mindset. It was amazing how fast the client was getting powerful, long term and positivity resolute in their life. That was when BDSM Wellness was born! She started to see how many ways she could support clients' personal transformation and healing by bringing them into the dungeon. It still amazes her how fast and long term transformation happens with BDSM wellness.
How Trauma Shows Up And Can Interferes In BDSM/Kink and Human Sexuality: The human brain and human sexual development is very complicated on its own without someone experiencing trauma. Once you add in sexual and or non sexual trauma in a person's life it will affect all sorts of areas like ;sexual desires, sexual behaviors, emotional regulation and development, relationships and intimacy to name a few. As a Dom it is so important to understand how trauma and triggers may be affecting your subbie and or yourself in and out of the dungeon to keep everyone safe!
Empress Gaia is excited to share her expertise in Human Sexuality, Trauma Healing and BDSM/ kink knowledge with you during this course. Empress Gaia has dedicated her life to gaining these powerful skills daily and with over 30,000 hours of personal and professional development you are in good hands. One of her super powers is the way she can break down large complicated concepts into small bite size so her students' learning can be easy, fun and successful.
The way this course is laid out will allow you to take your new found knowledge and integrate it not just into your BDSM personal or professional play or Healing Practices but into all areas of your life. Once the knowledge has been integrated you can start using it right away which benefits you and your clients.
Here is what we cover:
Lesson 1- What Is BDSM Wellness?
Lesson 2- What Is The Difference Between BDSM Wellness And Dom Session?
Lesson 3- Understanding Trauma
Lesson 4- Top 3 Tools To Manage Your Triggers
Lesson 5- How Does Trauma Affect Our Clients Sexual Arousal
Lesson 6- How Does Trauma Affect Your Sexuality
Lesson 7- How To Dealing With Being Triggered During Session
Lesson 8- Top Tools To Use While Clients Are Triggered
Lesson 9- Understanding Your Judgement and Beliefs- BDSM Wellness and Trauma
Lesson 10- Advance Inner Child Work
Lesson 11-Creating Safe Space And Safety For Others
Lesson 12- How To Use Your Inner Child Work To Heal
Lesson 13- How To Use BDSM Wellness
Lesson 14- It's A Wrap
Welcome to BDSM Wellness And Trauma Training this course can be a stand alone course or you can take it as part of Empress Gaia larger Pro- Dom Program and Mentorship.
Looking forward to exploring with you Empress Gaia
Your Instructor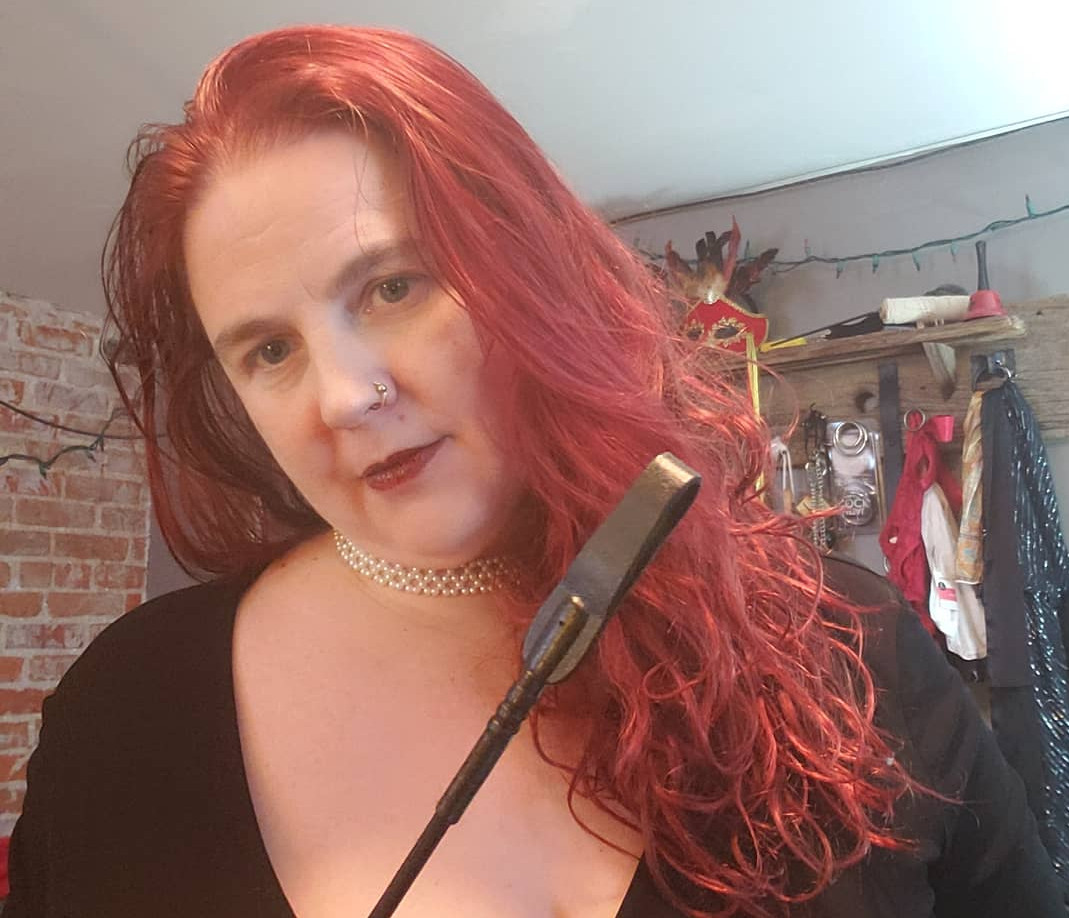 As a very Orgasmic Goddess I love everything to do with human sexuality both personally and professionally. I have spent my life in search of daily epic orgasmic pleasure, and quest toward a deeper understanding of human desire both physically and psychologically…
Human sexuality is my life. I eat, sleep and breathe it.
My personal sexual journey has allowed me discover that I am a kinky slut. BDSM and many forms of sexual exploration have enable me to truly love and accept all of my sexual desire, kinks and aspects. I have discovered that I long and crave to be worshiped. There is a burning need inside me to own and dominate. I truly am Healthy Ethical Sadist. I am blissfully delighted to laugh at the discomfort of others (evil laugh… HAHAHA!).
I am deeply passionate about supporting others on their journey of self-discovery, self-acceptance and expression of their deeper, darker sexuality. It excites me to guide, teach and make others become the best version of themselves. One of the many ways that I do this in the world is through the use of BDSM. . www.empressgaia.com
Here is the more Vanilla Gaia Morrissette, has dedicated her life to making the world a happier, sexier, magickal and safer place for us all. She believes that the keys to a happy, healthy, wealthy, magickal and EPIC orgasmic life is; sexual wellness, embracing the human experience and letting go of Fear, Shame,Guilt and Self- Loathing. She is a world renowned Holistic Sexual Wellness Specialist, BDSM Wellness Specialist, Instructor, Published Author, International Speaker and founder of Succulent Living . She is also a High Priestess of Divine Sexuality and Guardian of Elemental Magicks while be a universal translator of Love and Light in the universe . Through her Sexual Wellness Coaching Private Practice; she makes pleasure safe, makes sex better and helps you take it to next level. Her philosophy is that for true Sexual Wellness to happen you must look at these 5 aspects: Play, Sensuality, Sexuality, Exploration and Sacred. Her published book: Stop! Drop! & Wiggle! explores the first aspect which is our foundation of Happiness: PLAY. She is also the founder and Department Head of the Sexual Wellness Coaching Certification Program at The Succulent Living Institute. Her education and training consist of, sexology, trauma recovery, life coaching, tantra training, sex coaching, and lots of practice in the areas of play, healing, and exploring. For more information about Gaia and her professional practice, please visit www.gaiamorrissette.com .
Frequently Asked Questions
When does the course start and finish?
The course starts now and never ends! It is a completely self-paced online course - you decide when you start and when you finish.
How long do I have access to the course?
How does lifetime access sound? After enrolling, you have unlimited access to this course for as long as you like - across any and all devices you own.
What if I am unhappy with the course?
We would never want you to be unhappy! If you are unsatisfied with your purchase, contact us in the first 30 days and we will give you a full refund.