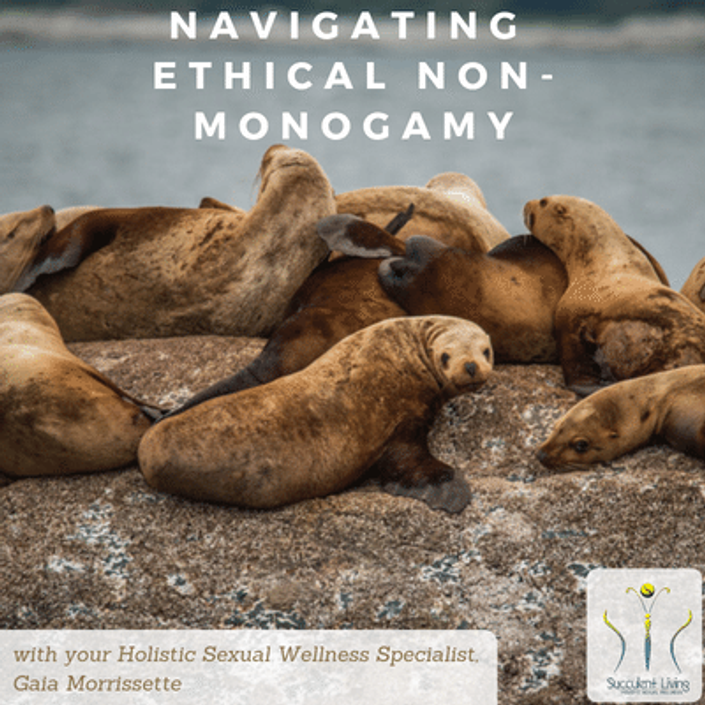 Navigating Ethical Non- Monogamy -7 Weeks Self Study Course
The honest ins and outs of how to explore Ethical Non- Monogamy safely. It's for anyone curious or already practicing non-monogamy dig deeper
Watch Promo
Enroll in Course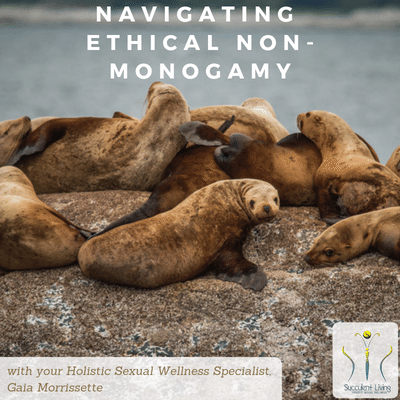 Have you been curious about what ethical non-monogamy is?
Have you cheated in your past?
Do you fantasize and lust over people other than your partner?
Have you ever wondered and wished that you could talk to your partner about more exploration?
Have you thought swinging might be fun but were afraid that it would wreck your relationship?
Navigating Ethical Non-Monogamy Self-Study Course is where you want to be. Holistic Sexual Wellness Specialist, Gaia Morrissette, has created this course for you, because (like so many of her clients and students), there are so many people who also want to figure out how to explore and navigate ethical non-monogamy without ruining and wrecking their relationships. In the world of Ethical Non-Monogamy, there are so many different forms, styles and language, it is hard to know where to start … Take Gaia's hand as she walks you safely through the maze:
So you can create and co-create the ethical non-monogamy style and relationships that best serve you
Understand if monogamy or ethical non-monogamy is in line with your love paradigms and sex paradigms
How, if you have a primary relationship, it can help you become closer and build a deeper intimacy with one another
How to deal with jealousy
Letting go of self-loathing and shame and coming to self acceptance
How to NOT hurt yourself or others
Gaia has been exploring and living a life of Ethical Non-Monogamy for the last 25 years both in her personal and professional life, and she is super excited to share and pass on her knowledge that she has been gathering during these years. In this 7 class self-study course, there are a few of the topics we will covering:
Difference between support/love then codependency/control
How to handle jealousy
Are you monogamous or non-monogamous in all your relationship areas?
What is your code of ethical engagement?
Overcoming slut-shaming
Investment: $497 Canadian or 3 monthly payments of $190 Canadian

Start Date: Today!
Here are the titles of your 7 Classes:
Class 1: What is Ethical Non - Monogamy?
Class 2: Ethical non monogamy lifestyle options
Class 3:Create loose Master plan of your Ethical Non- monogamy lifestyle
Class 4: Having the honest conversations with the people in your life
Class 5:Code of Ethics
Class 6: Jealousy
Class 7: Honesty, trust,ethics, honour, respect and communication
Until I get to laugh, learn and explore with you have a happy, sensual bum wiggling time!
Gaia Morrissette

Your Instructor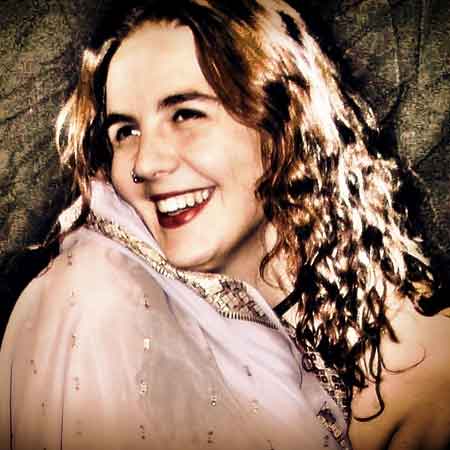 As a very Orgasmic Goddess I love everything to do with human sexuality both personally and professionally. I have spent my life in search of daily epic orgasmic pleasure, and quest toward a deeper understanding of human desire both physically and psychologically…
Human sexuality is my life. I eat, sleep and breathe it.
My personal sexual journey has allowed me discover that I am a kinky slut. BDSM and many forms of sexual exploration have enable me to truly love and accept all of my sexual desire, kinks and aspects. I have discovered that I long and crave to be worshiped. There is a burning need inside me to own and dominate. I truly am Healthy Ethical Sadist. I am blissfully delighted to laugh at the discomfort of others (evil laugh… HAHAHA!).
I am deeply passionate about supporting others on their journey of self-discovery, self-acceptance and expression of their deeper, darker sexuality. It excites me to guide, teach and make others become the best version of themselves. One of the many ways that I do this in the world is through the use of BDSM. . www.empressgaia.com
Here is the more Vanilla Gaia Morrissette, has dedicated her life to making the world a happier, sexier, magickal and safer place for us all. She believes that the keys to a happy, healthy, wealthy, magickal and EPIC orgasmic life is; sexual wellness, embracing the human experience and letting go of Fear, Shame,Guilt and Self- Loathing. She is a world renowned Holistic Sexual Wellness Specialist, BDSM Wellness Specialist, Instructor, Published Author, International Speaker and founder of Succulent Living . She is also a High Priestess of Divine Sexuality and Guardian of Elemental Magicks while be a universal translater of Love and Light in the universe . Through her Sexual Wellness Coaching Private Practice; she makes pleasure safe, makes sex better and helps you take it to next level. Her philosophy is that for true Sexual Wellness to happen you must look at these 5 aspects: Play, Sensuality, Sexuality, Exploration and Sacred. Her published book: Stop! Drop! & Wiggle! explores the first aspect which is our foundation of Happiness: PLAY. She is also the founder and Department Head of the Sexual Wellness Coaching Certification Program at The Succulent Living Institute. Her education and training consist of, sexology, trauma recovery, life coaching, tantra training, sex coaching, and lots of practice in the areas of play, healing, and exploring. For more information about Gaia and her professional practice, please visit www.succulentliving.com.
Courses Included with Purchase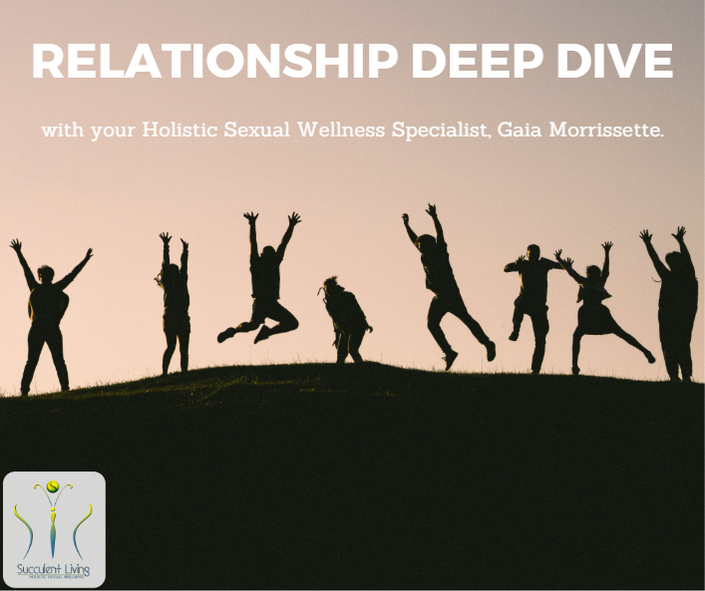 Relationship Deep Dive Self Study Course
Tired of being lonely, unhappy and being in distressed relationships? Come figure out how to improve unhappy relationships in all areas of your life.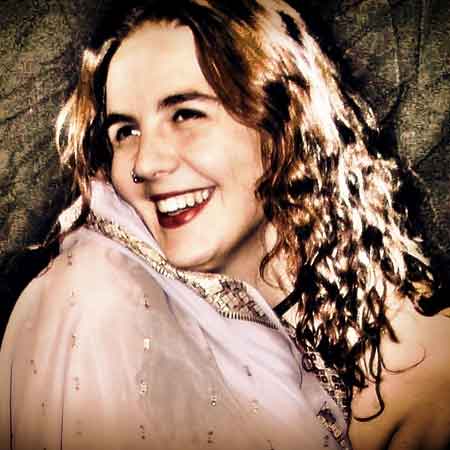 $175
Original Price: $175
Frequently Asked Questions
When does the course start and finish?
The course starts as soon as you purchase it....You will have lifetime access to class and any future new bonus content and resources
How long do I have access to the course?
How does lifetime access sound? After enrolling, you have unlimited access to this course for as long as you like - across any and all devices you own.
What if I am unhappy with the course?
We would never want you to be unhappy! If you are unsatisfied with your purchase with in 30 days for a refund